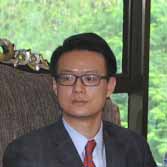 Chao Chen
Chairman of CitiPanda
"I want to change the world." This simple but profound philosophy has served as the guideline of Chao for years. After sessions and sessions of brainstorming with Justin, they have had the idea to facilitate people at the largest scale, which is CitiPanda. As the founder and chairman of CitiPanda, Chao not only is responsible for strategizing the directions for this young startup, but also he has to manage relationships with various external parties including investors, filing firms, software companies and a lot more. Chao believes that CitiPanda is the next big thing which will change people's lives profoundly.
Chao's diversified experience enables him to bring extensive entrepreneurship, team building, operation and investment experience to CitiPanda. Started to assist in family business at age of 14, Chao followed an unusual career pattern. During his undergraduate study at UCLA, Chao started two companies: Wenderful Online Store to sell retail woman purses and NewStar Textile to wholesale textile products to store vendors. During his last two years of undergrad, Chao made combined sales revenues of more than half million dollars. After graduated with Economics degree, Chao founded Hostlink America with his partners. In less than 2 years, Chao set up the office and team in LA fashion district and wholesaled an accumulated amount of more than 2 million dollars of textile products to vendors such as Forever 21.
Determined to explore the corporate world, Chao left his business and started to take roles in the finance sectors. He took the role as financial analyst at one of the largest private equity in LA, Oaktree Capital Management. From his role, Chao has developed his understanding of financial industry and his investment philosophy. After this role, Chao became a bank regulator at California State Government whereas he would go around checking on different banks. As the job required, he needed to network with CEOs and management teams from different banks. From this experience, Chao further developed his network in the financial sectors. After that, Chao had a role as senior financial analyst at of the largest financial institution, Bank of America. At Bank of America, he would at times lead large team of more than 70 people to accomplish large scale financial analyst tasks.
After his MBA study at USC Marshall, Chao joint the leadership rotational program at CFLD, the largest city builder in the world. As a reserve country president in a certain country, Chao rotated and worked in multiple countries. During his rotation, Chao needs to constantly meet with high level government officials as high as the country president and union ministers. In order to develop business, Chao has to strive to network with all top local business partners, usually all firms making the top 20 list. Stepping into a new country, Chao has to learn how to quickly set up teams capable of tackling all sorts of local challenges across different markets.